Filter by Category
General Enrichment
Online Registration Unavailable
Driver's Education
with Roy's Driver & Rider Education, Five Town CSD Adult & Community Education
Driver's Education courses at Camden Hills Regional High School continue, with a new class beginning every month. For the most up-to-date information, please visit www.roysdriving.com.
This course includes:
★ 15 hours of in-person classroom instruction (includes BMV written exam)
★ 15 hours of self-paced online course ($18 fee included in your tuition)
★ 10 hours of behind-the-wheel instruction
Upon satisfactory completion of this course, we will issue a temporary learners permit good for 60 days. Students must obtain their 2-year learners permit from the Bureau of Motor Vehicles.
Roy's Driver & Rider Education is the only driving school in Maine authorized to provide a hybrid Drivers Education experience consisting of 15 hours of in-person classroom instruction paired with 15 hours of self-paced online component classes. The online content provider is OnlineDriversEd.com and they are the only provider authorized by the BMV for this curriculum.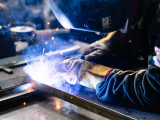 Online Registration Unavailable
Welding I
with Rob Gaudette, Region 9 Adult Education
Learn the basics of stick welding and welding processes. This 36 hour class prepares students to weld for personal and workforce use, as well as for credentialing purposes. Class will be Mondays & Thursdays from 6-9pm for 6 weeks.
< < We must have 5 registrants in order to run this class > > 

Cost includes personal protective equipment, students are required to wear steel-toe leather boots.
CALL TO REGISTER
Start date to be determined when registration is filled.