Wells-Ogunquit Adult Community Education
Wells, ME
Travel
Peabody Essex Museum & Hawthorne Inn
with Lynne Longworth, Wells-Ogunquit Adult Community Education

May 14, 2019 at 8:30 am
Come join us to share your passion for American Art at the Peabody Essex Museum in Salem Massachusetts. There will be a private tour of the new exhibit "A Passion for American Art" .After the tour, you will be able to enjoy the museum on your own. We will finish the museum visit at 12:30. We will have lunch (which is included in the price) at the historical Hawthorne Inn with a choice of one of four menu selections. We will return to Wells High School approximately at 4:00. Instructor Lynne Longworth graduated from Endicott College in Interior Design. She will be our tour guide for our trip.
Full Course
Portland Seadogs Game - NEW!
with Wells-Ogunquit Adult Community Education

Jun 6, 2019 at 9 am
Let our Adult Ed program make the arrangements for the tickets, transportation and parking, so you can enjoy a baseball game watching the future stars of the Boston Red Sox. The Portland Sea Dogs are the double-A affiliate of the Boston Red Sox. The Sea Dogs will be playing the Rhode Island Squirrels (San Francisco affiliate) with a start time of 11:00. Book your nine inning vacation as soon as possible, we have only the capacity of 10 fans for this trip.
Will run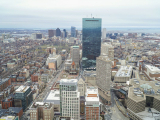 Weekday in Boston
with Christopher Chessie, Wells-Ogunquit Adult Community Education

May 2, 2019 at 8:30 am
We will start our trip by meeting at the Wells Transportation Center at 8:30 and board on train # 682. Your experience onboard the Amtrak Downeaster will start with comfortable spacious seating, oversized windows for the best scenic views and stress free travel. Your Boston day trip will be your own experience to explore many areas including the Freedom trail, Boston Public Garden, Rose Kennedy Greenway, and shop at Faneuil Hall or visit the indoor court yard at the Isabella Stewart Gardner Museum. We will have map and information for you to consider for your trip. We will return on train number 687 and should arrive in Wells at 8:09PM. You will need to make your reservation by April 23rd so we can reserve the seats on the train. We will need a minimum of 10 participants for this trip.
Will run