Filter by Category
College Transitions
WOWI® Career Assessment and Counseling
with Lynn Sheehan, York Adult & Community Education

Next session starts Mar 4, 2019 at 8 am
What do you want to be when you grow up? The WOWI® (World of Work Inventory) Career Assessment is the answer to all your questions! WOWI® takes into account your skills, interests, and workstyle. After you take the assessment, a trained WOWI® professional will interpret the results with you. You will then meet one-on-one and find out what job(s) you are best suited for. Together we will Assess, Explore and Plan your future!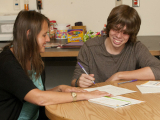 Registration Unavailable
Writing For College
with Academic Instructor, Lake Region & Fryeburg Area Adult Education

runs for 52 weeks
If college is in your future and you will need to brush up on your writing skills, this is the class for you.Learn the essentials of writing, including sentence skills and easy formatting. This course will give you a boost of confidence and the skills needed to enter a college level writing class.
Available in Casco, Naples and The Fryeburg Area days and evenings.
Join this class today by calling us @627-4291.
Rolling admissions
Registration Unavailable
Writing Skills for College
with Allison Benfatta Burns, Lawrence Adult Education

Jun 4, 2019 at 1 pm

, runs for 7 weeks
REGISTRATION FOR THIS COURSE MUST BE DONE IN PERSON. CONTACT US FOR AN APPOINTMENT AT 453-4200, EXT. 3114 OR ADULTED@MSAD49.ORG.
This course is designed for students whose writing ACCUPLACER score is 225 or less indicating a need for further instruction prior to taking college level writing. This course will provide instruction in grammar, sentence structure, conventions of Standard English, and essay writing. (This course is equivalent to the course offered at community colleges or universities.)