Oxford Hills/Nezinscot Adult Education
South Paris, ME
Tools and Trades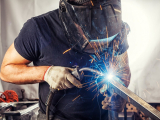 Professional Welding
with Fred Locke, Oxford Hills/Nezinscot Adult Education

Nov 6, 2018 at 6 pm

, runs for 12 weeks
Oxford Hills/Nezinscot Adult Education and Bancroft Contracting Corporation are pleased to announce an exciting new welding training opportunity! Professional Welding students will learn the welding processes used by Bancroft Contracting Corporation and other local employers. If you are interested in learning a skilled trade that is considered to be a high wage/in-demand occupation, register today. Students will learn how to produce high quality welds and will be tested on those skills at the conclusion of the program. The test given is used by Bancroft Contracting Corporation to test its entry-level welding job applicants.
This 92-hour long program includes hands on welding instruction, safety training, math for welders, and job-readiness skills training. Classes are held from 6:00pm-8:30pm on Tuesday and Thursday evenings on location at Bancroft Contracting Corporation and on Wednesday evenings at the Oxford Hills Comprehensive High School. The program begins in early November, 2018.
Preregistration is required and includes a formal Adult Education student intake and assessment given by Adult Education Student Advising. Cost of the program: $1,955.00 and includes tuition, test fee, consumables and equipment, student personal protective equipment. For more information, contact Oxford Hills/Nezinscot Adult Education, 207-743-8842 or adulted@msad17.org.