Oxford Hills/Nezinscot Adult Education
South Paris, ME
General Enrichment
Basic Computer Skills
with Teresa Drag, Oxford Hills/Nezinscot Adult Education

Apr 30, 2018 at 5 pm

, runs for 2 weeks
Students will explore the Windows desktop, learn mouse skills, navigating folders and files, navigating the internet, sending emails (is students don't already have an email account they will learn how to set one up). They will also learn about security and what to be cautious of when using computers. Students will get a brief introduction to useful programs (MS Office).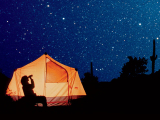 Registration Unavailable
Stargazing Jumpstart!
with Terry Robinson, Oxford Hills/Nezinscot Adult Education

Jun 8, 2018 at 9 pm
"I've always wanted to learn the night sky!" Have you ever said this? This class is just what you need to get started! You will learn constellations, all the bright stars, plus we map stars to find them. IMPORTANT: Class postponed due to weather will be rescheduled for one of the alternate nights - please be available for those nights, if needed. Bring: clipboard, pencil, paper, and a head lamp with a steady red light (non-blinking).
Alternate dates:Saturday, June 9Friday, June 15Saturday, June 16