Region 9 Adult Education
Mexico, ME
Travel
Ask a Lawyer: Police Encounters
with Paul Dumas, Region 9 Adult Education

Mar 26, 2019 at 6 pm
The blue and red lights are flashing behind you.  You are being pulled over. What do you do next?  Learn about your rights in this free legal clinic.
Registration Unavailable
Italy and Greece with Windham Raymond Adult Education
Price not
available

Jul 11, 2019
As you make your way through iconic cities and legendary landscapes on a tour of Greece and Italy, you'll walk through the backdrops of ancient mythology and in the footsteps of emperors. Sit back and savor the good life in Sorrento and on the Isle of Capri, then watch as history comes to life in Rome and Athens.
Capri, Pompeii ruins, the Roman Forum, the Colosseum, Epidaurus & Mycenae, the Acropolis, the Parthenon, Temple of Zeus
On this guided tour, you'll walk for about 2 hours daily across moderately uneven terrain, including paved roads and unpaved trails, with some hills and stairs.
Board your overnight flight to Naples today.
Welcome to Italy! Travel to your hotel in Sorrento, then meet your fellow travelers at tonight's welcome dinner.
Join a local guide and sail across the Bay of Naples to the famed Isle of Capri before returning to Sorrento. • Boat around the island to view Capri's caves and grottoes (weather permitting) • Stroll through the village of Capri • Take a funicular ride to Capri's upper town  • Explore the Gardens of Augustus Enjoy a free evening in Sorrento or add an excursion.
Travel to Rome, stopping along the way to explore the legendary ruins of Pompeii.  • Embark on a guided tour of Pompeii's ancient ruins • View the excavated Roman ruins of theaters, villas, temples and baths • Learn about Mount Vesuvius' volcanic eruption • See what life was like in the Roman Empire
Follow in the footsteps of the ancient Romans on a tour of the Eternal City. • Pass by Trajan's Column and Piazza Venezia, the city's central hub • Stop at the ruins of the Forum, once the setting of parades, elections, and trials • Soak up over 2,000 years of history in Imperial Rome, viewing the Arch of Constantine, the Arch of Titus, and the Temple of Venus and Roma • Enter the Colosseum, the largest amphitheater of the Roman Empire, and take time to explore on your own Enjoy a free afternoon in Rome or add an excursion.
Spend the day exploring Rome on your own or add an excursion.
After landing in Athens, travel to Nauplia, stopping at the scenic Corinth Canal along the way.
Visit Greece's best-preserved amphitheater on a guided walking tour of Epidaurus, then enjoy a guided tour of the archaeological site at Mycenae.
A local guide introduces you to the highlights of this bustling ancient capital, home to the world's first democracy. • Pass by the Olympic Stadium, Syntagma Square, and the Arch of Hadrian • View the sixth-century Temple of Zeus • See the classically inspired Old Royal Palace, home of the Hellenic Parliament, and drive through the Plaka district • Set off on a walking tour around the ancient Acropolis, site of the Parthenon, Temple of Athena Nike, and Erechtheion
Spend a free day in Athens or add an excursion.  Later, join your group for a farewell dinner in Athens.
Transfer to the airport for your flight home, or extend your stay to continue exploring Greece.
Once thought to be the lost city of Atlantis, the volcanic island of Santorini is now known for its black-sand beaches, sprawling vineyards, and cliff-lined shores. The island's volcanic soil is ideal for harvesting grapes, making it a world-class wine producer. As you soak in the Mediterranean sunset each night, be sure to sample a glass (or two) of Santorini's labels. During your stay, you'll also discover the area's rich history on a local guided tour and a visit to the museum of Akrotiri, a Minoan colony buried in volcanic ash 3,600 years ago.
Take the ferry to Santorini, where the rest of the day is free to enjoy on your own.
Take in the local sights on a guided tour of Santorini, a volcanic isle known for its black-sand beaches, cliff-lined shores and stunning whitewashed architecture. • Visit the prehistoric settlements unearthed at Akrotiri Excavations • Ride to the top of Profitis Ilias Mountain for panoramic views of the whole island  • Stop in the small, picturesque village of Pyrgos  Enjoy a free afternoon in Santorini or add an excursion.
Spend the day exploring on your own or add an excursion.
Spend a final morning in Santorini before flying back to Athens for the night. This evening, enjoy a farewell drink as you celebrate your trip with your fellow group members.
Transfer to the airport for your flight home.
FOR MORE INFORMATION: https://www.grouptoursite.com/tours/wrae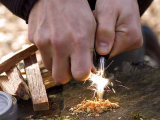 Registration Unavailable
Wilderness Survival
with Kevin Frost, Region 9 Adult Education

Mar 25, 2019 at 6 pm
Gain confidence in spending time outdoors while learning about the essential needs for survival and how to survive if something unexpected happens.  Kevin will provide you with a "Bug Out Essentials" bag for all your outdoor activities. Some learning will be done by playing games, so wear closed-toed shoes and dress for the weather.  Bring a notebook and your questions to class.