Filter by Category
HiSET (formerly GED)
Science
with Elizabeth Bremner, Spruce Mountain Adult Education
Students will prepare for the HiSET® Science exam through practice with reading passages, and using charts, diagrams, and graphs to answer questions.
Classes focus on weekly topics in the areas of life science, earth science, and physical science, with plenty of group discussion and problem-solving.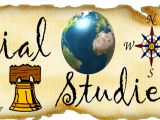 Social Studies
with Michelle Guillaume, Spruce Mountain Adult Education
Students will prepare for the HiSET Social Studies exam by reading complex texts on US History, world history, geography, or economics. Classes include class discussion about these topics and practice answering selected test questions.
Students will use a HiSET specific text, learn to read the material critically and extract the information needed to answer the questions. Come and learn about world events, have group discussions, and prepare for the test.