RSU#12 Adult Education
Somerville, ME
Health & Wellness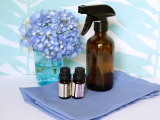 Registration Unavailable
Cleaning with Essential Oils
with Mary Alderman, RSU#12 Adult Education

May 7, 2019 at 6 pm

, runs for 1 week
Come and join us and learn how chemicals in your cleaning supplies are making your home toxic and what you can do about it. We will discuss how you can detox your natural cleaning supplies you can easily make at home.  We will also discuss why you should clean with essential oils, the science behind using essential oils, safety guidelines and tips for cleaning with essential oils, which oils to use and you will receive recipes for making products for your laundry, bathroom, kitchen, carpets, glass, wood and even the air! You will also learnsome of the basics about essential oils, we can answer any questions you might have, and introduce you to some of the most popular oils and how to use them. There is a 15.00 dollar lab fee, paid to the instructor the night of class. This is just in time for Spring cleaning!!
Registration Unavailable
Essential Oils Gift Basket Mothers Day or Fathers Day or Graduation
with Mary Alderman, RSU#12 Adult Education

Apr 2, 2019 at 6 pm

, runs for 2 weeks
Come and have some fun and also make a great gift for someone for Mothers Day, or Fathers Day or Graduation with essential oils. These gifts will be appreciated as a thoughtful expression of caring.  Choices are: Men- shaving cream and body lotion, Shampoos and Conditioners Women- Bath Salts and body lotion, Kids- Bath Bomb and Body lotion, Baby body wash and lotion. Lab fee is 10.00  for each basket, make one or more, limit of four, this is a two night class. April 2nd and April 9th.  Lab fee is paid to the instructor.
Registration Unavailable
Jelly and Jam Basic's
with Deb Barnett, RSU#12 Adult Education

Apr 23, 2019 at 6 pm

, runs for 1 week
Would you like the fresh taste of homemade applesauce or strawberry jam all year long? This hands on food preservation workshop will teach you the basic steps for hot water canning and freezing, Participants will receive a "Preserving the Harvest" food preservation packet, and will learn recommende methods for preserving foods, the latest and safest recipes. You will also learnabout equipment to insure safty and how to check for properly sealed jars.  Please bring a potholder to class with you. You will take home a jar of whatever we prepare for the evening. A twenty dollar lab fee is paid to the instructor the night of class.