RSU#12 Adult Education
Somerville, ME
Arts & Crafts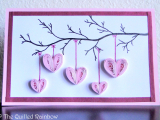 Registration Unavailable
Card Making Made Easy - Session 1
with Lorna Plourde, RSU#12 Adult Education

Mar 14, 2019 at 6 pm

, runs for 1 week
These cards are all hand made from the heart-one you'd be proud to give to anyone. You will never need to go to the store and buy another Birthday, Anniversary or Get Well card, etc. In this class students will learn how to create and design their own cards using new decorating techniques, finishes and additional embellishments. The first Thursday of each month, students will complete a minimum of 3-5 cards each session. Come join a fun filled evening and learn how to make beautiful homemade cards. There will be a door prize each session. All supplies are provided. Students must pay lab fee of four dollars to the instructor on the first night of class. Thirty dollars for all three sessions or 12.00 for one. Lab fee must to paid to instructer, please do not include it in your registration.
Requirements / Prerequisites
Registration Unavailable
Darling Needle Felted Animals
with Debra Arter, RSU#12 Adult Education

Feb 25, 2019 at 6 pm

, runs for 1 week
In this one evening class each particiapnt will make one or more cozy, soft small mammals or birds of their choice out of wool and use the felting method to create the features of their new friend. In the past, popular choices were bears, penquins and ducks. A material fee of 9.00 covers all wool and armature materials, plus one felting needle. You may create a treasured gift or something to keep for yourself. No experience needed, young people age 12 and up may attend with an adult. Bring your glasses with you if you wear them for close vision. Class size is limited. Deb holds an MA in fine Arts and has been teaching Adults various art projects for many years.
Registration Unavailable
Hot Press Goat Milk Soap Making
with Heather Emerson, RSU#12 Adult Education

Mar 19, 2019 at 6 pm

, runs for 1 week
Students will make a full batch of goat milk soap, in the scent of their choice (instructor will supply scents, soap, ingrediants and molds) Students must bring their own dedicated 1.5 gallon crockpot and dedicated submersion blender of electric mixer.